What is Physiotherapy?
Physiotherapy is a primary care, autonomous, client-focused health profession dedicated to:
Improving and maintaining functional independence and physical performance
Preventing and managing pain, physical impairments, disabilities and limits to participation
Promoting fitness, health and wellness
What do Physiotherapists?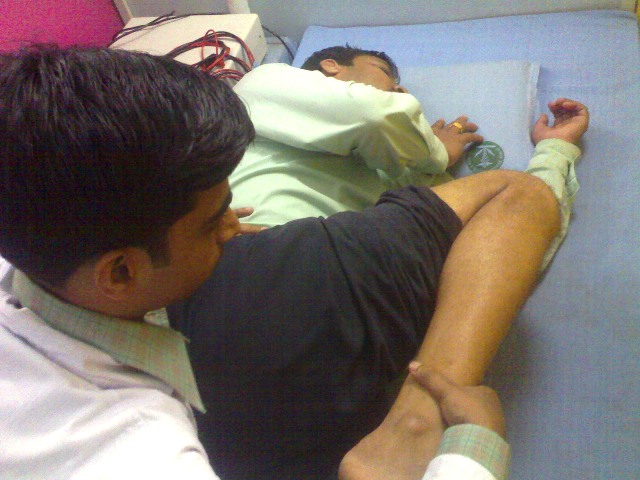 Physiotherapists provide assessment, treatment and education for a wide range of health problems to ensure you make the most of your lifestyle. As people live longer and busier lives than ever before, it's not surprising that our bodies occasionally need assistance to stay in good working order. Physiotherapists can recommend the best way to treat problems with your muscles, bones and joints, circulatory, respiratory or nervous system. Physiotherapists can also advise you on ways to prevent potential health problems from occurring before they arise.
Every year physiotherapists assist thousands of Canadians of all ages, from babies to the elderly, in preventing and managing the effects of congenital diseases, illness, chronic diseases, neurological conditions, accidents and the stresses and strains of everyday life.
Physiotherapy – How it Works
Physiotherapy involves using a variety of techniques to help your muscles, joints, heart and lungs work to their potential. Physiotherapists work in partnership with individuals of all ages to break down barriers impeding physical function. Physiotherapy can help individuals living with congenital or chronic diseases or other debilitating conditions and can assist those recovering from: surgery; illness; neurological conditions such as stroke; injury; industrial or motor vehicle accidents; or age related conditions. The practice of physiotherapy is drug-free.
Fundamental to a physiotherapists' approach is an appreciation of your role in your own care. Physiotherapists work with you to integrate your care into your lifestyle. They are skilled in providing treatment, preventative advice, rehabilitation and care for people with long-term or terminal illness and will develop a full treatment plan to suit your unique needs.
Physiotherapists are university educated, regulated health professionals that play an important role within your health care team. To ensure physiotherapists across the country apply consistently high standards, the Canadian Physiotherapy Association, the Alliance of Physiotherapy Regulators and the physiotherapy colleges of each province regulate the practice of physiotherapists in the public interest.
Physiotherapy Department Logo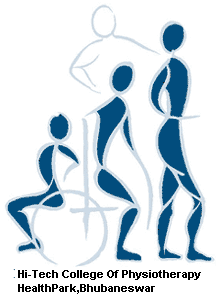 The Physiotherapy Department logo was created to mark the centenary of physiotherapy at the Royal Adelaide Hospital in 2002.
The three dark blue figures represent the range of patients with whom physiotherapists at work. Patients are depicted undertaking activities associated with their physiotherapy care – education, therapy and exercise programs aimed at improving their mobility, function and independence. The sequence of patients represents some of the stages of recovery from illness or injury in which physiotherapy is involved.
The physiotherapist is represented by the pale blue figure in the background of the image, this colour and position indicating that the focus of physiotherapy is the patient rather than the therapist. Physiotherapists do not merely apply techniques to patients but strive to enable the active participation of patients in their health care. As such the physiotherapist's arms are positioned to indicate that the role of physiotherapy encompasses support, facilitation and motivation.
Equipment used by physiotherapists is also represented in the image. The circle depicts both a wheelchair that provides mobility, and a therapy ball that provides a dynamic challenge to improve balance and stability. The intersecting lines symbolise a stable base from which movement is facilitated, and the extension of the central patient's arm represents a walking stick, used to enhance independence. This equipment is likewise depicted in subtle pale blue, indicating that they are aids to therapy and patient function rather than the focus of physiotherapy.
In creating and using this logo we aim to embody the activity and philosophy of the Physiotherapy Department in maximising the health and well being of the people we serve.
Branches of Physiotherapy
Physiotherapist provides wide range of therapies after examination, tailored to suit individual needs.Physiotherapist aims to restore functioning of the body, to reduce impact of dysfunction, disability and pain of the body, from trauma and disease. To improve mobility, health and reduce risk of injuries.
A. Therapies includes:
Manual Therapy: Stretching, manual resistance training, joint mobilization and manipulation, Manual lymphatic drainage (Post lymphedema), chest physiotherapy.
Electro Therapy Techniques: Laser therapy, EMG, Biofeedback, ultrasound therapy, Diathermy (SWD, MWD, LWD), Interferential current therapy, traction (cervical & lumbar), continuous passive motion shoulder and elbow and lower extremity.
Exercises: Posture training, muscle strengthening, cardio vascular training and stretching.
Specialities:
Sport injuries Rehabilitation – CPM's shoulder and elbow, rowing machine, ergometer, treadmill and therabands
Maunal lymphatic Drainage – Post Lymphedema
Pelvic floor reeducation – Post Incontinence with EMG Biofeedback
Ante-Post natal classes
Paediatrics – neonatology and congenital abnormalities
Weight management centre – Exercise regimns with a team approach
B. Other Services:
Advice orthosis and prosthesis (post amputation) offering information regarding equipment aids (wheel chairs, walking aids), taping and splintings.
Facilities in Department of Physiotherapy
Electrotherapy - SWD/IFT/Ultrasonic/NV & MS Stimulator, infratonic, Hydrocollator, Paraffin wax bath, Cryotherapy, Laser unit, microwave diathemy, Lymphapress, Longwave Diathemy.
Diagnostic - I.T curve/MS testing/ADL assessment
Mechanical - Traction-Cervical/Lumbar/Pelvic/C.P.M. for lower extremity and CPM elbow & shoulder. Tiltable, rowing, ergometer with lower extremity, treadmill.
Manual Mobilisation Therapies - Mobilization couch with specific features for mobilization.
Exercise Therapy - Active/Assisted/Passive/Resisted/Graded resisted exercises, PNF techniques, suspension therapy, Theraband/tubes exercises.
Chest Physiotherapy - Assessment of pulmonary functions, therapeutic functions, postural Drainage, Therapeutic, Interventional physiotherapeutic procedures, Nebulization Breathing exercises, Incentive spirometer, Humidification, home care and follow ups.
Gynae/Obstertric - Antenatal & postnatal Ex., postural correction & awareness, incontinence feedback.
Fitness - Assessment & Improvement etc.
Post Operative Cardiac Surgeries - following cardiac surgeries Pre & Post operative Physiotherapeutic exercise for patients including-Breathing exercises, chest manoeuvers, humidification, nebulization, Incentive Spirometers, Limb Physiotherapy,cardiac rehab- phase I -IV
For Neurological Disorders - Proper positioning of the limbs (Anti synergic patterns) general mobility & strengthening exercises, PNF,Bobath
ICU post surgical care :
Chest physio & general mobility ex.
Incentive Spirometer ex.
Bronchial hygiene
Proper positioning of the operative side/part
Ambulation Prevention
General postural awareness
Ergonomic advice at home and at workplace
Geriatrics - Community based rehabilitation starting from village level (PHCs)
Diagnostic Facility, Therapeutic Facility, Strength duration curve Stress, Urge & mixed incontinence
Manual Muscle Testing , Biofeed back (for strengthening muscle ) , ADL Assessment (Activities of daily living functional status), Lymphoedma (past carcinoma), Oedema - DVT/PVD (deep vein thrombosis)(Peripheral vascular disease), Hemi plegia, Post Polio residual paralysis), Post Trauma/ Arthritis etc.
Cerebral Palsy , Neurological Disorders, Chest Physiotherapy related to post pneumonia in Neonatal Peadiatrics , Nephrology, Intensive care (post cardiothoracic), Neurological, Surgical Respiratory, Kidney Transplant